Towards the end of February this year, I started using the complete line of the Celeteque Dermoscience™ Acne Solutions except the product for back acne because I'm not experiencing that anymore. I was beginning to think I'm having another go at puberty because my skin was breaking out bad. Perhaps it was because the summer season is upon us and my super oily skin really does not enjoy the humidity. My honest review of the products is as follows.
Celeteque Dermoscience™ Acne Solutions + the Advanced Anti-Aging cleansing oil I'm currently using as a makeup remover
ACNE CLEANSING GEL – Since I use this after I wipe makeup off my face with the cleansing oil, for a gel it works great at getting rid of the oil as well as whatever make-up and dirt are left on my face. It has no particular scent to it and I think even though it doesn't create foam as much as regular facial washes, in my book I really love how it cleanses my face without leaving it dry. Rating: ★★★★
ACNE CLEARING FACIAL MOISTURIZER GEL – Since it is a gel moisturizer, I'm not really sure if it moisturizes my face the way I expect it to. But I love that it doesn't make my face oily at all and leaves it matte-like. I don't have any trouble applying my BB cream after using this moisturizer. No annoying scent, too. Rating: ★★★★★
OIL CONTROL TONER – The toner stings my face especially if I just popped a pimple. For its cleaning and pore-closing properties, I don't think it does the perfect job. Actually, I don't get what a toner really does besides cleaning whatever makeup or dirt is left on the face after washing it. Some say you don't need a toner but I think if you have time for skin care at all, then I really need to use a toner, too. Rating: ★★★★
ACNE SPOT CORRECTOR GEL – This got rid of cystic acne in 4 days to a week. Not as fast as I hoped it would compared to other spot correctors I've used in the past. Then again, this may not be as strong as the others which is good. But if you want a zit gone immediately, maybe you should look further. The smell reminds me of Garnier's Pure Blemish Pen. Rating: ★★★★★
OVERALL RATING: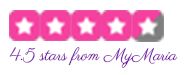 I think this product is wonderful if you want to keep your pimples at bay. However, my skin is extremely oily now that the sun is really screaming summer all over the place. And after sun exposure, I broke out so bad that I think I need a stronger treatment so my acne will disappear for good. This could be hormonal also so perhaps I may need to see a dermatologist again.
Okay, time to move on…
UPDATE: July 2013
I'm back to using the ACNE CLEARING FACIAL MOISTURIZER GEL and ACNE SPOT CORRECTOR GEL because of the chocolates and peanuts I've been eating lately. Yup, skin broke out again (just a little bit! nothing drastic really) and the spot corrector gel just works like a charm. :)) So I'm happy! A few days of use and the cystic acne is gone! It's so effective and it doesn't smell like medicine at all!!! Also I can't seem to live without the facial moisturizer gel as it's the only affordable gel moisturizer I could find that's perfect for our hot/humid climate. I also like to sleep with it because I don't like heavy night creams that get my pillows all dirty. Boo! Although the rainy season is here for the next few months, cream moisturizers just don't seem to work for me anymore ever since I discovered this moisturizer gel. TWO THUMBS UP!!!
Contains Acnidol™ BG to help reduce sebum secretion in acne-prone skin and has French spring water that gives moisture to the skin by stimulating the production of skin lipids

TWITTER ★ http://twitter.com/mrsnoodleboy
INSTAGRAM ★ http://instagram.com/mrsnoodleboy
PINTEREST ★ http://pinterest.com/mrsnoodleboy
BLOGS ★ http://www.bastaigatsikat.com ★ http://www.mrsnoodleboy.com