What was once a quiet, sleepy little town has become a bigger and bustling city. Although still nothing compared to the Queen City of the South or the Capital, here we are progressing slowly, steadily, and surely. I love the fact that we can still enjoy a laid back lifestyle at the same time enjoy the modern and trendy things just like what the more urbanized parts of the country are offering. Our tourism is getting there, too. I'll be writing about that very soon. 🙂
Nevertheless, this blog post I'm featuring is the newly (re)opened Buttercup Boutique and Novelty Shop owned by the beauty queen and my sister-in-law, Ishshah Franco-Kangleon. Ever since a little girl, she has always dreamed of owning a clothing store and yes, dreams do come true. She says it's not too late and it's absolutely worth the wait. Ishshah opened Buttercup back in the Summer of 2012 and since then has gradually expanded to selling not just women's clothes but children's garments, too.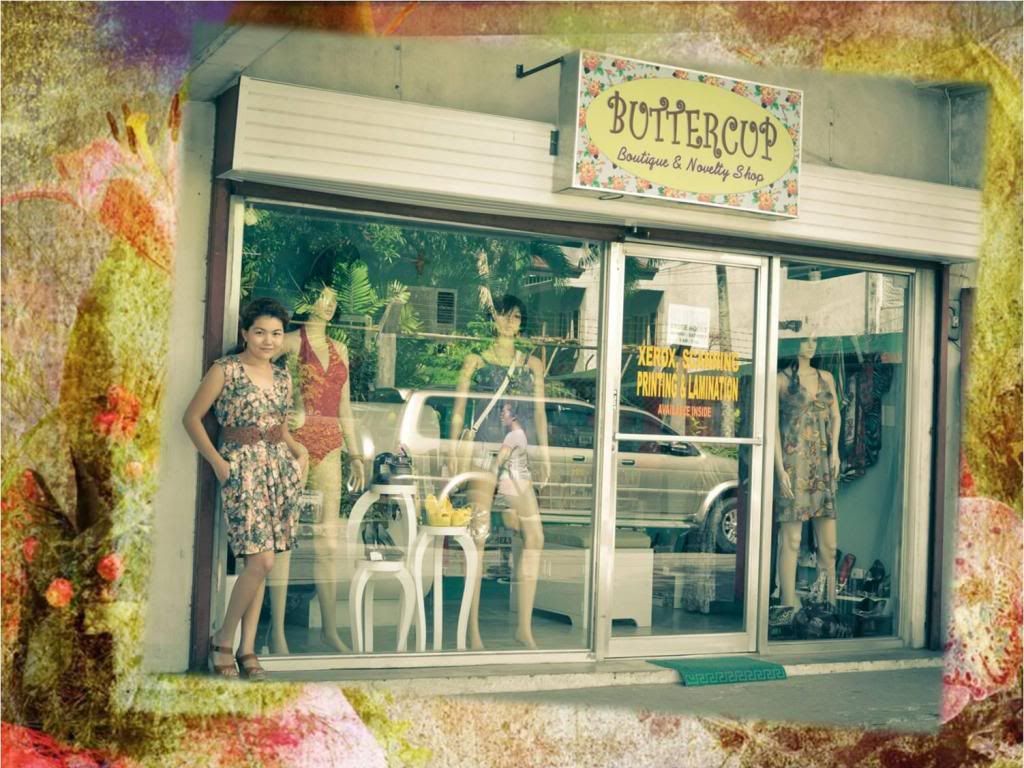 The gorgeous owner, Ishshah Kangleon poses outside Buttecup's old location when it first opened in 2012.
Buttercup Boutique also sells bags, shoes, accessories, fragrances, and just about anything your kikay heart desires. Remember Buttercup generously sponsored a swimsuit for my summer-slash-birthday giveaway last April? WOOT! At the boutique, you can find both brand-new branded and pre-loved items imported from the US as well as collections from the owner's modest but definitely wearable and affordable original clothing line, Ishshah. The store only accepts cash at this time (no credit cards) but they do accept lay-aways as well. Through their Facebook page, you can also order items ONLINE from their albums then have those shipped to you (or picked up at the store) just like from any other online shop on the rise in cyberspace. In addition, you can follow the store account on Instagram to be updated on the latest.
My new shoesies!!! Yay! Thank you Buttercup!
This super comfy ballet flats is priced at only P570.
The new store is now located at Lopez Jaena Street in Ormoc City, across DBP and beside Mancao Bookstore. Here are some of the pictures I took during the official opening last Wednesday, June 17, 2013.
New location for a bigger & better BUTTERCUP BOUTIQUE in Ormoc City
The beautiful Ishshah Kangleon of Buttercup Boutique and Novelty Shop
Ramen Girl and Noodle Boy showing our support! AJA AJA! FIGHTING!
The Francos
Ishshah and her supportive hubby, Pert. Sorry, boys, she's taken. *wink*
SHOESSSSSSSS! SANDALSSSSSSS! SLIPPERSSSSSS! I want them all! Tee hee.
Congratulations, Ish, for the successful opening of a BIGGER & BETTER Buttercup Boutique and Novelty Store!
P.S. I will be publishing fashion-related blog posts here at www.bastaigatsikat.com for Buttercup Boutique every month. So please do visit again to check them out! Til then! Thanks for dropping by!

TWITTER ★ http://twitter.com/mrsnoodleboy
FACEBOOK ★ http://facebook.com/bastaigatsikat
INSTAGRAM ★ http://instagram.com/mrsnoodleboy
PINTEREST ★ http://pinterest.com/mrsnoodleboy
BLOGS ★ http://www.bastaigatsikat.com ★ http://www.mrsnoodleboy.com