In the quest of anti-aging, I've discovered why collagen is indispensable. At least for me because once you hit your thirties, there's no denying that collagen production decreases. There's no escaping it, unless you have vampire blood. It's a metabolic fact. Wait, what? You see, I have crazy hormones to begin with. And if you're like me, the struggle with adult acne is very real… something I still battle with as much as keeping my weight in check.
So here's the thing. Estrogen is a hormone that's known to affect collagen and elastin levels, meaning your skin becomes looser and less flexible due to lack of elasticity (even as early as 25 years old!). Hence, facial wrinkles start to show up and you see those annoying fine lines becoming more visible especially around the eyes. Now the most sensible thing to do at this point in my life is supplement with collagen, because I have not discovered the Fountain of Youth or acquired powers to turn back the hands of time. Those two being quite the impossible feats. So back to reality, taking collagen everyday really helps me.
But why so vain? Don't I want to age gracefully? Well, to each his/her own. If I can help it, then why not chocnut? Besides it's not like I have to sell an arm or a leg for it. You can prevent premature aging and promote youthful vitality with collagen products such as BHK's Collagen. Unlike other collagen products I've used, this one comes in capsule/tablet form.
How to take it? Just drink 2 before bedtime and that's it! No need for mixing it with drinks or anything, which I don't mind doing either. But if you're the lackadaisical type, then this is right up your alley.
It doesn't taste like anything. Just like a normal coated tablet which is easy to swallow and glides down your throat. Of course, I drink it with water. I mean, drinking a glass of water before bedtime has always been a ritual for me along with cleaning my face because it helps the body cycle through toxins and dispel waste. Aha! Bet you didn't know that! Well, maybe you do. But hey, if you didn't, well, now you know! Tee hee.
The great thing about collagen is they work fast in:
reducing wrinkles
making skin look more supple, firmer, and smoother
helping wounds heal faster + reducing scars (goodbye, acne marks!)
protecting bones and preventing bone mineral density loss
improving degenerative joint disease
More often than not, results can be seen in just as little as 2 weeks of taking it.
Look even this popular site has determined I look 5 years younger than I actually am! WHOA! So if you're not brave enough to do fillers on your face, why not give collagen a chance? There are extra benefits aside from anti-aging. If I were to choose between taking gluthathione vs collagen supplements, I'll take collagen any day. But let's save that for another blog post.
For all you naysayers out there saying collagen is a waste of money, well, you are certainly entitled to your own opinion and no one is forcing you to change your mind. However, if you're here reading my blog post because you're interested about collagen, what it does or if it actually works, here's what I can say — YES, IT DOES.
If you can spend extra on top of your vitamins/minerals/adaptogens or whatever supplement you're taking, try it. See for yourself. What have you got to lose? In fact, you have so much to gain! Also if you're wondering if BHK's Collagen is 100% absorbed by the body, they claim it is! What do I think? Personally, because I see results for myself, then it must be working as it should. 🙂 No doubt about it.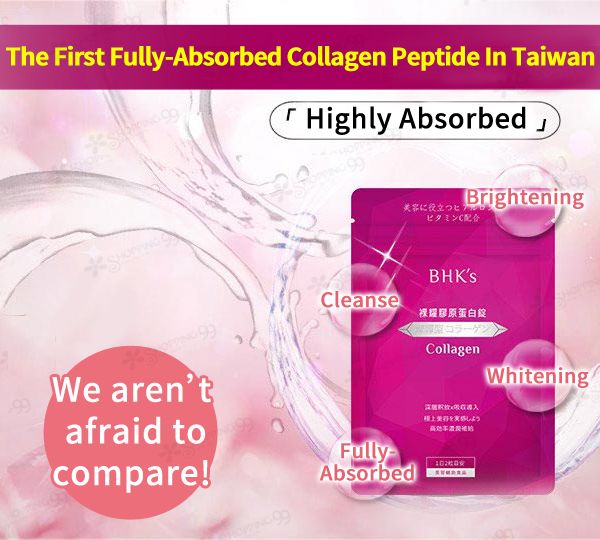 If you want to know more BHK's Collagen which retails for Php699 per a bag of 30 capsules (good for 15 days), you can check it out at Shopping99's site as they have more information about this product. I am just here to share with you about my experience and let you know that it's worth trying if you're looking for a collagen product that works. Just be warned that if you are allergic to fish and seafood, you CANNOT take the product. Sorry, guys. It's just that these contain fish collagen aside from chicken cartilage extracts (including hyaluronic acid) and Vitamin C.
Apologies for not posting a proper before and after photo for this since I've been constantly experimenting with ways to look younger and the changes aren't very drastic to warrant a B&A photo. You know, I play around with not just makeup and skincare, but also with diet and lifestyle modifications. We're not getting any younger and there's more to just looking young.
For me and for many others out there, you gotta FEEL young, too… which circles back to bone health and collagen that can help with joint pain. Thank goodness, I don't have those pains yet and I am not going to wait to feel any disability to take some action. I have quite an active kid and I refuse to feel old (especially look like it!) so I can enjoy being a part of his growing up years.

So yeah, in conclusion, it's not just about looking young but also feeling strong and able inside. Based on my own experience, this where collagen shines and becomes truly indispensable.
Look good, feel good.